The theatricalization of the Point of Sale: a new living space to enhance the shopper experience
Posted on05 Aug. 2019
Until recently, the purpose of a store was to sell products. Elementary. But that was before, in the prehistoric era when Amazon did not exist, the Old World! Nowadays, the quest focuses on the famous "experience" and the relationship. Therefore, the shop does not die when it gives way to e-commerce. It is simply being transformed into a place of life by animating its point of sale through the implementation of a merchandising strategy. Its primary function is shifting from the commercial to the emotional, in order to create a close link between consumers and brands.
The transformation of the shop: a new merchandising
The more the e-commerce is developed, the more the need for the human touch is felt, the more the shop is legitimate and the more it uses digital technology for personalisation purposes: a virtuous circle that consecrates phygital. In the digital age, this is a new way of doing business, centered on human values and meaning.
A profound transformation where, in order to capture the hearts and time of customers, the shop becomes a theatrical sales area, a place to stroll around and experience memorable moments. This is in total contrast to e-commerce, where the customer/brand contact lasts only a few clicks!

Thus, the buying process closely mixes physical and digital points of sale, and merchandising is being reinvented:
"According to a recent study by Wavestone, 94% of customers go to the shop to try out products, 88% to get advice from experienced salespeople and 86% to discover new products. Hyperconnected, 46% of consumers are also adept at "showrooming" (identifying, trying out products in shop and then buying on e-commerce). Source : Article LSA, the shop as a new place for customer experience.
As for Havas, its Retail study of 2019 shows that the real pleasure in shopping of 82% of the French consumers is to touch and try out the product at the point of sale.
The shop as proof of success
Not only is the shop not lifeless, but it is also a consecration for digital native brands: Oh my cream, le Slip Français, Sézane… all these young brands were born from digital selling and then set up their physical point of sale. And then they quickly become trendy places, which also boost online sales! The circle is complete…

For example, in the field of beauty, a Coresight research study indicates that while 80.7% of global sales of beauty and personal care products are still made in shops, the share of e-commerce has increased from 4.2% of the global beauty market to 7.8% in 2017.
And most importantly, according to the study, opening a physical store increases online traffic by 45% for emerging brands (less than 10 years old), as it is a trust factor and boosts brand awareness.
New merchandising challenge: The transformation into a living space, all sectors combined
It is now up to existing brands to develop their points of sale in two directions
1. Eliminate the obstacles to in-store purchasing, the famous friction points such as waiting at the checkout,
2. Transforming the shop into a real living space, thanks to commercial events, catering or any other service. And here new technologies have their place, to make the experience both richer and the sales advice more personalized.
This evolution concerns all economic sectors and the whole world, according to various themes, all consumer centric and experience driven.
– Showrooms, without sales
The Samsung example: the brand has opened an experiential shop on the Champs Elysées. 1200 m2 on one of the most expensive avenues in the world, where there is absolutely nothing to sell! Instead, you go from one experience to another, all fun and educational at the same time. Furthermore, there is a cafe, a children's corner, a lounge… you can spend your whole afternoon there
Huawei at the Stock Exchange has also created a shop dedicated to customer relations and experience: no sales, but advice and device repair.
Orange launched its mega concept store of a 1000m2 at the Opéra, a strategic Parisian location. Presentation of the new products, commercial animations and thematic workshops, beauty bar for mobiles, customization of shells, event space… They only sell accessories.
– IRL testing
Supreme, the New York clothing brand that has become the emblem of the skate culture, has opened a shop in Brooklyn with its own Bowl inside, for all skate aficionados!
Canada Goose has set up cold rooms in a few stores in the United States so that the customers can test the effectiveness of its clothing against the cold, in real conditions at a temperature of minus 25 °!

– A global culinary experience
Eataly, the Italian gastronomy phenomenon, has just opened its 4000m2 Parisian spot in the Marais. Both a restaurant and a grocery shop, you can taste, buy and take cooking classes at La Scuola di Eataly, where you can learn the art of risotto for example.
Moments of sharing also at Sur La Table, the American brand of kitchen accessories, which also organizes cooking classes for children, teenagers and adults in its shops.

– No longer a shop, but a flat
Sarah Lavoine has imagined her concept store as a flat, with different rooms. As Elisabeth Leriche, a member of the Observatory for Maison&Objet Paris, explains, "the dramatisation of the point of sale helps the customer to project himself better, since he appropriates the objects as if he were at home. We are moving from story telling to story living".

The same trend can be seen at La Garçonnière, a Parisian concept store on "Art de Vivre for men" which mixes clothing, accessories and various products for men with a cafe, table football and a barber.

The same goes for Madame Monsieur, a start-up located in a large house in the South of France, which offers a selection of 50 cosmetic, perfume and lifestyle brands, with services such as a barber, hairdressing, hair coloring and facial services, as well as a coffee shop.

– Experience wellness
At Casper, the famous American bedding company, you can test mattresses, pillows and duvets in New York in "The Dreamery" and take a 45-minute nap for $25.
As for nap bars, they are multiplying in France, directly imported from Japan, like the Zen Bar à Sieste Passage Choiseul in Paris, where the nap is extended with treatments, massages or fish spa.

– Immersive space and art of living
L'Occitane is playing the card of immersion in Provencal culture and regional roots in the design of its sales outlets. After opening "86 Champs", which combines the beauty and gastronomy of Pierre Hermé, the brand opened a shop in New York on 5th Avenue last winter. There you can ride a stationary bike and watch the Provencal landscape, or take a hot air balloon ride over the South of France, while getting a hand massage.
His retail approach is adapted to the local culture of each country, but always with his roots in mind.

The same concern for local adaptation can be seen in the magnificent Apple shop that opened in a 19th century Haussmann building on the Champs Elysées, a typical Parisian building. It marries elegance and technology with its 5 floors of training spaces, demonstrations, workshops on coding, music, design, and even a "Hermès room".
– Sharing passions with the community
The Rapha space or the passion for cycling. A theatrical sales area where people can meet, have a coffee to talk about cycling, prepare a trip, repair their bike… It is centered on the values and lifestyle of the brand rather than on the sale of the products, and thus unites its community.
Outdoor Voices, an American sportswear brand, offers activities in line with its DNA. The shop houses a yoga room, organises jogging sessions, for humans and even for dogs due to a "dog jog". The profits are donated to the animal cause.
The fitness brands Sweaty Betty and Lulu Lemon also offer yoga classes, as does Décathlon. Reebok in Paris has a gym with access to classes.

La Maison Sonos, a Californian brand specializing in loudspeakers, brings together music lovers in the 9th arrondissement of Paris in an experiential space with different rooms as in a house, and a musical atmosphere specific to each room, where you can share a playlist or have dinner.

– Convenient, just like at home
American Eagle, the second largest jeans retailer in the United States, has opened a shop in Manhattan adapted to its young clientele, with free laundry and a jeans customization workshop, a bar and a lounge, making it a meeting place for neighboring students.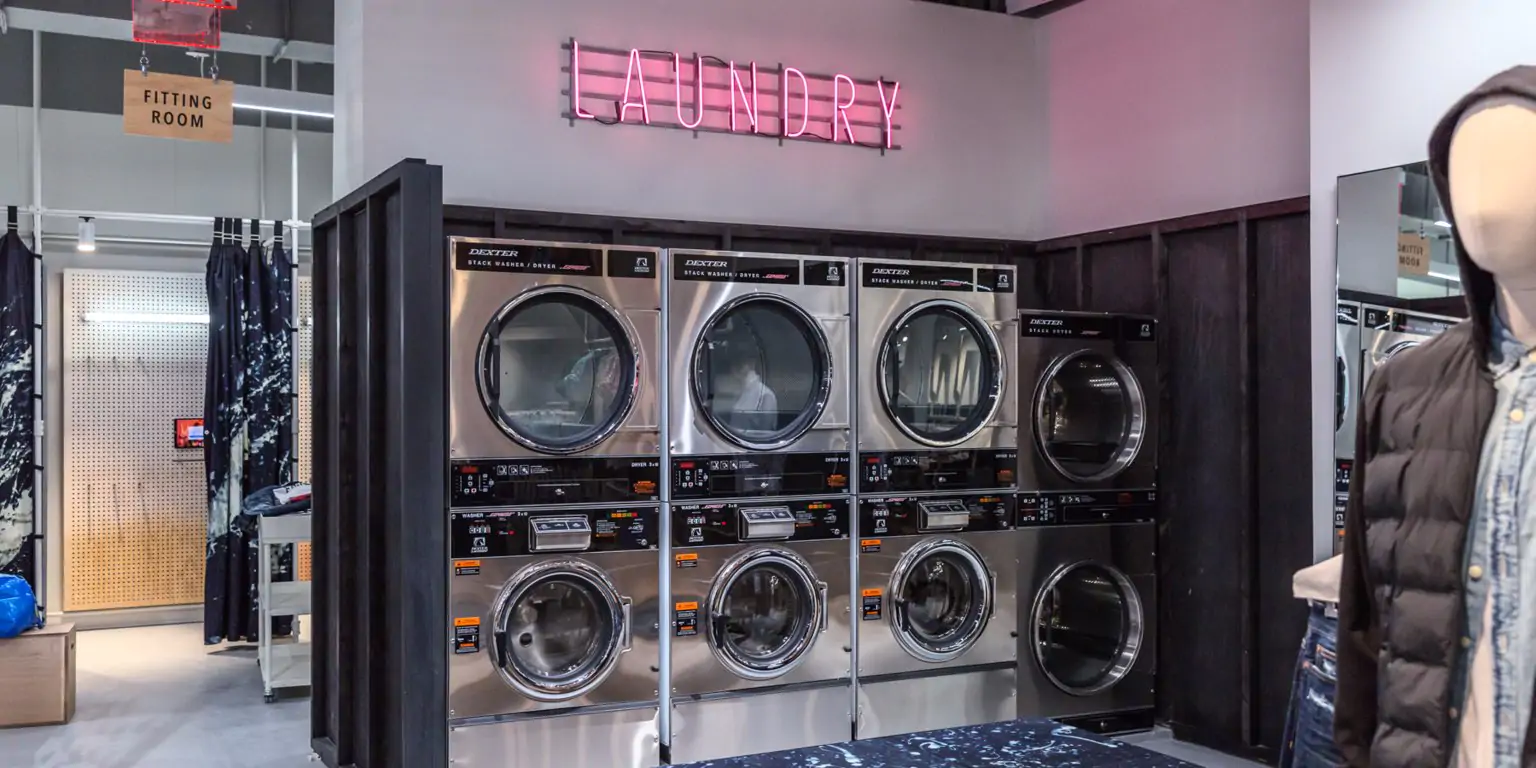 Bash, in the Nolita district of New York, opened a shop last year, where during a happy hour every Friday, you can have a drink like at home but also borrow a garment for a weekend. The brand then pays for the dry cleaner.

– Shopping en famille, welcome to the kids! – Family shopping, welcome to the kids!
Shopping with the family is difficult, especially with the little ones… so the shops are rethinking their offer to become a place of life for young and old. Last winter, Le Bon Marché inaugurated 1500m2 of "lifestyle pathways, from baby to teenager" with a daycare centre including edutainment workshops. Parents feel less guilty, children are happy to come and meet the sales animators, and by the way, they are prescribers, and that's something the brands love!

– Co-working space …
The 4Casino, a Casino concept store opened last winter near the Champs Elysées, 24 hours a day, is both a place to live and a place to consume digitally, combining delicatessen, tasting of dishes prepared by a chef, wine cellar, Casino products, Cdiscount showroom and a coworking space
… Or hybrid space
In Tokyo, Book & Bed is an incredible place. Here, sleeping is an experience! A library integrates narrow capsules to fall asleep while reading, in the peaceful atmosphere of a bookshop. The books are not for sale, they can only be read on the spot.

Concept store within department stores
In September, Printemps Haussmann will open Le Market on the 4th floor, a 300m2 concept store for Millenials integrated into the department stores'.
"We wanted to create an Instagrammable point of sale that would be a disruption to the rest of the shop, open to the public, editorialized, mixing ready-to-wear, accessories, books… We designed it as a popular place to live, with seating," explains Nathalie Lucas-Verdier, purchasing director for women's fashion and accessories.
In all areas, brands and shops are rethinking their merchandising strategy by dramatising their points of sale to create spaces that, well beyond sales, offer moments of life where human and digital are closely intertwined. The results? Increased sales, but above all an enhanced shopper experience, at least for those who sincerely focus on the customer's interest.
The stores have a bright future ahead of them, all that remains is to review their definition (Larousse): "A commercial establishment of varying size where goods are sold wholesale or retail". And now "Where one lives memorable experiences »…?